Benefits of American Door's Barrier Gate Arms
Enhanced Security
Fully Integratable
Heavy Duty Industrial Models Available
Complete Installation
Strong, Dependable Performance
Options Available for Gate Arms
Loop detector
Photo eye
Keypad
Telephone entry
Key switch
Remote station
Smart card
Long range card
Biometric reader
Ticket box
Entrance and/or exit camera
Battery backup
How a Loop Detector Works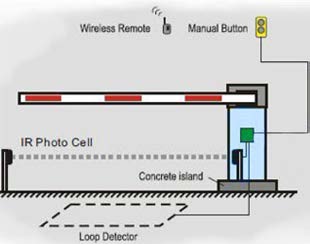 Loop detectors have a magnetic field that can sense when a motor vehicle is present. It sends a signal to the gate operator's control board. The control board then tells the gate arm what safe and secure operation to execute, considering the states of the other subsystems.
Some features of Barrier Gate Arms
Manual or electronic Control
Integrated detectors
Wood or aluminum arm
Boom length 6' to 30'
Battery powered backup
Ability to tie in peripheral systems
Some options to consider for Barrier Gate Arms
High capacity use motor
Surface or flush mount
Manual or automated
Receiver post or pendulum support
Operational voltage selection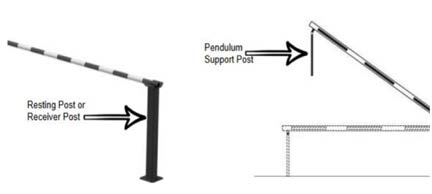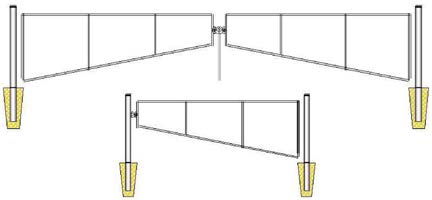 Barrier Gate Operators
Barrier gate operators are ideal when a higher level of security or traffic control is needed. They are tied into a complete system, and can be operated automatically by subsystems such as a card reader, keypad, or telephone entry system. Other subsystems are available as well, such as radio, photo eye, and remotely through a guard station kiosk.
Traffic Flow for a Barrier Gate Arm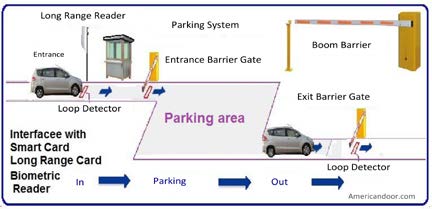 Barrier gate operator setup with one-way traffic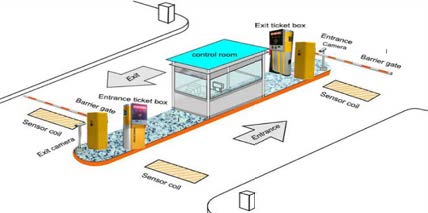 Barrier gate operator setup with two-way traffic
Whatever subsystems you choose, whether you need a full install from the ground up or a replacement for an old failing system, American Door is the right company to call. We have more than 50 years in the industry. We've been at it since 1969! We know that your gate operator is only one part of an integrated system, and that each component must work right with all of the other systems in order to provide the safety and security that your company needs. Call the team who does it all, from sales and installation, to maintenance and 24 hour emergency service.