Sliding grilles provide a stylish security solution, and simple side stacking in situation that don't allow overhead stacking of rolling grilles. American Door's sliding grilles use top hung curtain and adjustable height roller assemblies in an extruded aluminum track, eliminating floor track.
Our sliding grilles are available without a bi-part up to 30′ widths, and unlimited widths with bi-parts. Lead post options are keyed cylinder activated top and bottom locking post or a hook bolt that licks into wall channel. The curtain is fabricated with vertical aluminum rods and tubes and connected with horizontal aluminum links. Standard finish is clear anodized. Various colors are available, and can meet any architectural design.
---
Pocket
Includes the storage pocket complete with an aluminum door and adjustable height, installation is a breeze. Available in a wide variety of sizes.
Finish
Durable, clear anodized finish on exposed aluminum surfaces. Optional colors available
Posts
Many ways to secure the curtain with a wide variety of locking posts.
Track
The durable hardened track allows for smooth operation.
Optional curves and custom curves available.
Egress (Emergency Exit)
Emergency egress fire exit is available to meet
fire code regulations.
Cylinders
Locking posts supplied with 1″ mortise cylinder, can be easily changed onsite. Optional SFIC housing and cores available.
---
Grille Clearance Elevations
Curtain height is adjustable to a maximum of 1″ (25 mm) upward, and 1″ (25 mm) downward to compensate for unexpected field conditions.
This will vary top clearance from curtain to track from 1 ⁄ 2″ (13 mm) to 2 1 ⁄ 2″ (63 mm).
---
Side Folding Grilles Post Descriptions
Wall channel
Lead post – with cylinders interior/exterior engaging hook bolt lock
Bi-part – with cylinders interior/exterior and interior drop bolt
Bi-part – with cylinder exterior and interior thumb turn and drop bolt
Intermediate post – with interior cylinder lock and drop bolt
Intermediate post – with interior drop bolt
Top and bottom post – with interior/exterior cylinder lock and rubber bumper
Top and bottom post – with cylinder lock and protection plate
Traveling end post – with protection plate, post self locks into floor "v" stop
Fixed end post
90° Bi-part – with interior/exterior cylinders and exterior drop bolt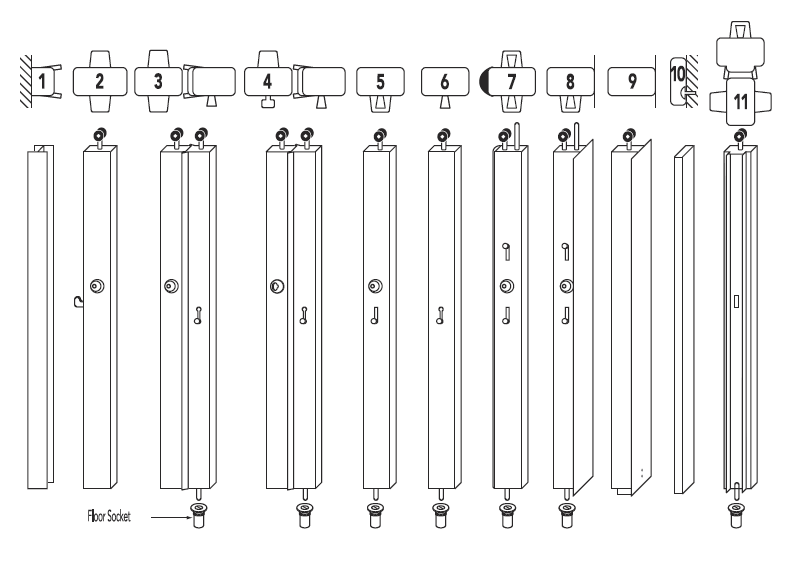 ---
Design Types of Folding Grilles