Insulated overhead sectional doors are the ultimate access control solution for air conditioned facilities or when you want to keep the weather and noise out. These overhead doors feature high insulation materials, dedicated section joint design, and various levels of airtightness.
The Pros
If your facility is air conditioned then insulated doors are pretty much essential – they lower your heating/cooling costs by dramatically lowering heat transmission. Additionally, insulated over doors reduce noise transmission, they are super sturdy, and require little to no maintenance for many years, making them a highly cost-effective solution and a smart investment for most businesses.
The Cons
Insulated overhead doors are more expensive compared with non-insulated overhead doors due to the use of insulation materials and an airtight design. The added insulation materials make insulated overhead doors heavier, which require the use of heavy-duty hardware in order to safely operate them. All the extra weight makes the choice of motorized operation very clear, which of course adds to the overall cost.
Understand Your Needs
So you know that you need an insulated overhead door solution. Great! But there are so many models of insulated overhead doors and choosing the right one for your needs requires diving into a sea of specifications, which can make it a little overwhelming.
What's the opening measurements? What level of insulation is needed? What type of mounting is needed/possible? Will the door operate under strong wind loads? Does sound proofing matter? Does it get very windy in Winter? These are just a few of the questions to consider when choosing the right insulated overhead door.
In this article we will equip you with the knowledge required to make an informed decision when selecting the right insulated sectional door for your facility. However, if learning about the technicalities of insulated overhead doors isn't for you, you can always feel free to contact us for free professional consultation on your project.
In order to learn about the key properties of insulated overhead doors, we'll start by laying out the main differences between insulated overhead doors models sold, installed and serviced by American Door.
Model
AM200
AM426
AM599
AM850
Exterior Steel
Lower is thicker
28 gauge galvanized steel
24 gauge galvanized steel
28 gauge galvanized steel
28 gauge galvanized steel
Max Height
32'1" (9.8 meters)
24'1" (7.3 meters)
32'1" (9.8 meters)
24'1" (7.3 meters)
Max Width
40'2" (12.2 meters)
28'2" (8.5 meters)
40'2" (12.2 meters)
40'2" (12.2 meters)
R-Value
Higher is better
17.5
7.35
17.5
26
U-Value
Lower is better
0.057
0.136
0.057
0.038
Air Infiltration
Lower is better
0.17 cfm/ft²
Not measured
0.13 cfm/ft²
0.09 cfm/ft²
STC Rating
Higher is better
Class 22
Not measured
Class 26
Class 22
Exterior Texture
Embossed
Ribbed
Flush or ribbed
Micro-groove or textured
Insulated Lites
(Optional)
Yes
Yes
Yes
Yes
Wind Load Design
(Optional)
Yes
Yes
Yes
Yes
Man Door
(Optional)
Yes
Yes
Yes
Yes
Price
(Basic setup)
$
$$
$$$
$$$$
Common Door Terms Definition
Gauge
Gauge is a measurement unit for sheets of metal. Gauge thickness is different for different types of material. In general however, the lower the gauge number the thicker the metal sheet, for all materials.
28 gauge galvanized steel = 0.019″ (0.483mm)
24 gauge galvanized steel = 0.028″ (0.711mm)
R-value
R-value measures a wall or material's ability to resist heat flow. The higher the R-value, the more resistance the material has. Here is a simple chart that shows the reduction of heat flow per R-Value:
U-Value
U-value is the inverse of R-Value. It measures a wall or material's ability to promote heat flow. The lower the U-value, the better the material as an insulator.
Air Infiltration
Air infiltration or air leakage is the passage of air in or out of a building. Leakage happens through cracks and gaps in the outside shell. Windows and doors leaking air is a significant culprit for air infiltration, and thus energy loss. Poor insulation around windows, doors, and vents contribute to air infiltration as well. The lower the air infiltration number is, the better airtight the product is.
STC Rating
The STC or Sound Transmission Class is a rating measurement of how well materials assembly reduces sound transmission. The STC provides a standardized way to compare products such as doors and windows. A higher number indicates more effective sound insulation.
Insulated Lites
Lites are openings in the door's sections filled with glass of various types in order to allow clear vision through the door or just light to come in. An insulated door requires insulated (double glazed) lites in order to keep the efficient insulation.
Wind Load Design
Wind load is the force applied to a surface by the wind, which can be expressed as a force on the whole surface or as pressure (which is simply force per unit area). Wind load doors are certified doors, according to US standards, just like certified fire-rated doors. Optional wind load design means that the door can be designed (with additional parts) to withstand strong wind loads, sometimes according to the area in which the door is installed.
Man Door
A man door (or wicket) is a human sized door or gate added to a larger entrance solution used by vehicles. It allows personnel to quickly go in and out of the overhead door without the need to open the whole door. This great solution saves time and keeps energy costs down when personnel traffic through a large door is required.
(If you'd like to learn more and widen your door related vocabulary, you can find many more terms in our growing glossary page).
Practical Model Comparison
Now that you have a better idea of insulated overhead doors' specifications, let's compare the doors in question in layman terms:
AM200 – Best heat insulation on a budget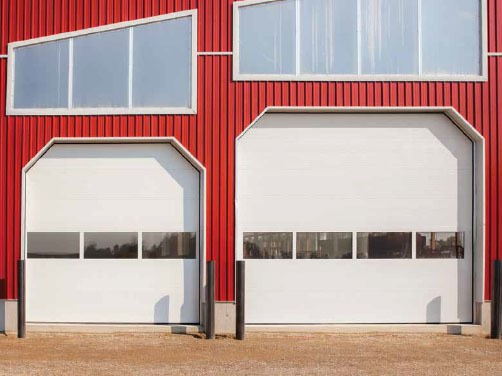 The AM200 model is an excellent entry level door model that offers great value for money when you need a wide insulated overhead door on a budget. It delivers mid-level heat insulation, excellent sound insulation, and lower-end air infiltration capability. If you require a good insulated door on a tight budget, the AM200 would be the one.
AM426 – Most secure insulated door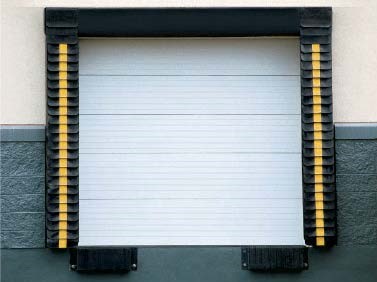 The AM426 model is designed for strength. It doesn't offer the best heat or sound insulation, nor does it have the highest level of air infiltration. It makes up for those in strength and durability. Its heavy steel limits the AM426 to a maximum width of 28'2" (8.5 meters), unlike all other models in this comparison, which can cover openings of up to 40'2" (12.2 meters). If you require an insulated overhead door that is highly secure then the AM426 would be the right choice.
AM599 – Best for sound insulation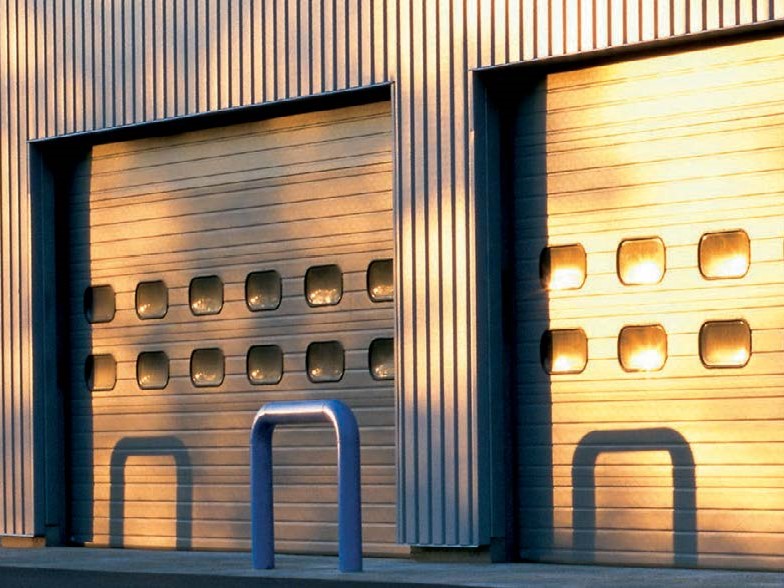 The AM599 model is positioned on the higher end. It features superb sound insulation, mid-level heat insulation, and better air infiltration level compared to the AM200 model. When you require an insulated overhead door that can keep the sound out (or in), the AM599 would be the one for you.
AM850 – First-class heat insulation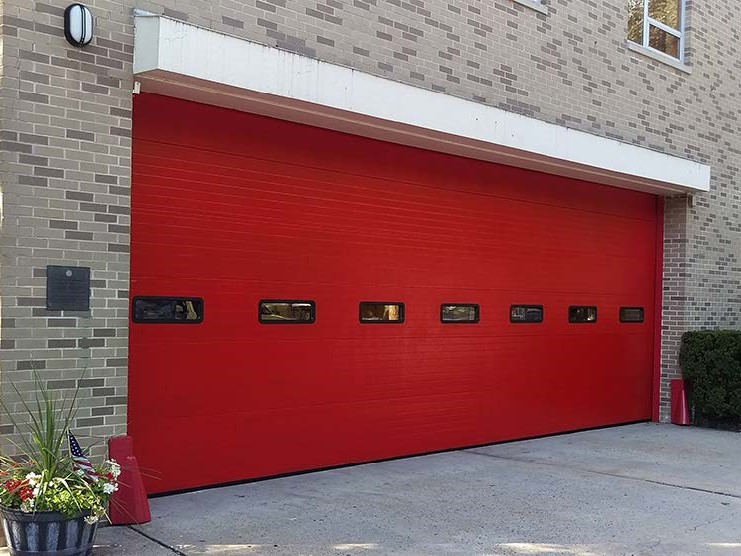 The AM850 model is a high-end insulated overhead door. It offers the most bang for your buck when it comes to heat insulation and air infiltration capabilities. The AM850 is on the pricey end, but it's high efficiency can save a lot on energy bills in the right environment. When you require the highest level of heat insulation, where sound is not an issue, the AM850 is the one.
Additional Things To Consider
Operation Mechanism
Overhead sectional doors can be opened with a motor, a chain hoist, or by hand (for light doors). A combination of motor and chain is also possible, for times of emergency. The easiest way to operate a commercial insulated overhead door is with a motor, however, if you open and close the door twice a day only, at the beginning and end of each day, a chain hoist mechanism might be sufficient. It all depends on the needs and aesthetic requirements. A budget also plays an important role of course.
Safety and Security Options
There is a wide range of safety and security devices available for overhead doors, each provides a solution on its own or in combination with other devices. For example, a strobe light, safety edge and photo eye can all be used together to provide additional safety and security to your work environment.
Vision Lites
When it's a good idea to be able to see through an overhead door or when letting light in is necessary, thermal vision lites can be added. Adding functionality and appeal.
Powder Coating
Each door has a few standard color options available to choose from, but for any overhead door can come with a custom color to fit the building design or a business brand. Powder coating is a unique painting technique that provides a layer of production to the door's steel. Powder coating offers over 200 color options, according to the RAL color system.
The Bottom Line
In this article we compared four overhead insulate doors, each has its pros and cons, and choosing the right one doesn't rest on a single factor like budget or door size. Practical and environmental needs and restrictions must be taken into consideration.
All overhead door models in our comparison are of highest quality and are made of high-grade industrial materials. It is important to understand that optional customization of any kind to an overhead door will naturally increase its price, making it critical to first understand which characteristics are must-haves, and work your way down from there to the nice-to-haves.
If you require professional assistance in choosing the right overhead door and other equipment for your project, you can always contact us for free consultation.